TallyLunch with Justin Cornwall
So.
I woke up with nothing to do. Sitting on the couch watching TV and i get a phone call around….11am-ish.
"HELLO! IS THIS JUSTIN CORNWALL"
"uhh….yeah…."
"OH! OK. JUST CHECKING"
-click-
I recognized the voice. that was rob cantor.
I almost exploded.
about 10 minutes later.
"HMMM! JUSTIN CORNWALL!"
"yeah! who is this!"
"ROB CANTOR! I just had my assistant call you to see if it was you. so. hows it going."
"good. just watching some tv"
"The price is right?"
"lemme see if its on……….nope"
"OH. Weeeeellll. lets see. We could do lunch NOW! or we could do a quick dinner before the show at the echo. which works best."
"Well. I may have to do some stuff before the echo show, but today works out great."
"OK. Know anywhere to eat"
(mind races) "Uhh….ermmm…i dont know"
"I see! Lemme call you back"
-click-
I frantically ran around. and got on AIM to talk to jennie,josh and tavia.
phone rings again.
"JUSTIN"
"YES!?"
"can you meet us somewhere?"
"My dad can come pick me up"
"Wait."
"?"
"Joe has something to say!"
"ok"
"JUSTIN! DO YOU HAVE A MAP?!?!"
"im trying to find one"
"WELL! YOU BETTER GET ONE! IM LOST IN YOUR EYES"
"haha"
rob gets back on phone.
"Justin. we'll call you back"
-click-
i am brushing my teeth and the phone rings. its my dad.
"hey justin"
"DAD! ROB JUST CALLED!"
"i know"
"?"
"you gave him my cell number too"
"Oh right."
"im coming home"
"ok"
-click-
phone rings.
"JUSTIN!"
"yes rob?"
"WHAT IS YOUR NUMBER OF LIVING!?"
(i skip a beat)
"Uhhhh…..12389127402835709285 something street"
"OK! WELL BE THERE IN AN AMMOUNT OF TIME IN WHICH I KNOW NOT THE AMMOUNT!"
"YES! OK!"
"we will see you soon, justin"
-click-
i rushingly clean my house.
sitting on AIM, i hear a thunderous growl coming up the hill of which i live.
imadude1033: AHAHA! THEY'RE HERE!!!!!!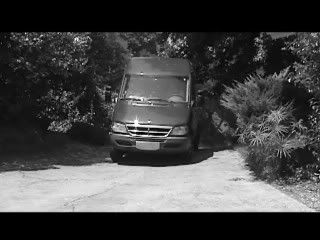 ___________________________
I see the van. I am so crazy.
And who should appear? WHY ITS BORA!
I came out the side door. he couldnt see me.
"BORA!"
head turns.
"Huh? OH! Hey, im bora"
*handshake*
I see joe in driver seat. he has seen me.
the window is down so i walk up to it and shake his hand.
"Ah. Hello sir"
"Joooooeeee."
rob leans over the seat.
"JUSTIN!"
they all get out of the van.
see video for conversation. link at bottom of page.
I get in the VAN. back left seat, next to andrew. we begin to drive.
Rob: SO JUSTIN!
Justin: yes?
Joe: tell us your life story.
Zubin: yes. do tell.
I tell them my life story and we get on the highway.
We're driving and Ross asks me what school I went to.
I told him.
Ross: OH! my highschool marching band played there once
Justin: really?!
Ross: yeah.
it is quite the small world.
mindless chattering goes on till we get to Old Town Pasadena. Bora seems to know the area quite well.
Joe: Where should we go!?
Justin: Lets adventure.
Someone: Sounds good.
We get out and put change in the meter.
and began to walk.
Joe forgot to lock the van, so he takes off his shoes and sprints back to the van to lock it. it was funny.
while joes gone:
Zubin: hey, what are some 4 letter monosylabic K names?
Ross: Kent, Kate….rambles on
i think this was like, for lyric thinking in Zubins head. probably
SOOOO. we walk and walk till we get to the eatery zone of town.
Joe: mmm. HOOTERS!
Rob: Oh yeah "Hey mrs.cornwall, we took your son to hooters"
they laugh, i laugh.
Zubin: Thaitalian?
Andrew: that looks fun
Bora: yes.
Joe: ever been there?
Justin: Nope
Rob: lets go.
we dont go to a cross walk.
Rob: we cant cross the street yet. there are cars.
Joe: Where?
Rob: OH! heres one now!
(this was in traffic)
We run across the street to Thaitalian.
and walk in.
I sit next to Rob and andrew. Bora,Zubin,Joe and Ross are on the other side of the table.
We order and such.
Rob: Hmm. Appetizers.
Ross: yes. lets get that one.
Joe: gross, never.
Bora: I like this one.
Joe: lets split it
Andrew and Zubin: ok
Rob: justin, pick a team.
Justin: oh ok. yours.
Joe: Psh. Ours will win.
These were appetizer teams. meaning. thats the appetizer you eat.
We wait for our food.
Joe, Bora, Zubin and Andrew: PULL!
Justin: Huh?
Rob: oh. pull.
Joe: its our secret game. wanna know how to play!?
Justin: Alright.
This is too secret. so ill skip this part.
Rob: so justin, which one of us do you think is gay?
……………silence………………
Justin: *laughing* ummm…..uhhh.
………..silence……………..
Rob: haah, were just kidding.
APPETIZERS ARRIVE.
Justin: Ours look like tigers.
Joe gets back from restroom.
Joe: DUDE! THAT BATHROOM IS sacagawea!
Zubin: really? i gotta see this.
he goes to restroom.
andrew follows.
they have to wash their hands.
Rob/Justin/Ross/Joe conversation.
Andrew and Zubin get back.
Bora is still there.
Andrews phone rings and the ringtone is like, Lordly trumpets that you hear in castles.
Joe (in semi-moustache voice): A PHONECALL FOR THE KING!
Andrew: Haha. Hello?
he talks to his mom for a while.
FOOD GETS HERE.
Rob (serious voice): Justin. Wont you pray for us?
Justin: um…………..
stares.
Justin:uh………..
silence and more stares.
joe begins to laugh.
Rob: hAHA. were just kiddin.
Justin: thought so.
Joe: penguins.
Rob: oh. justin. wanna hear about joes theory?
Joe: SO. Evolution came to demand for an Arctic flightless bird. WITH MEANING. The Black symbolizes the bad in the world, whilist the white is the good.
Ross: and the orange?
Joe: The orange symbolizes the fire within us.
we all laugh. even zubin. and i hear the legendary zubin "teehee"
We begin to eat and we tell many a tale of their travels. they got a flat in nevada, how they went to Las Vegas and got Craig Ferguson a gift. Many many other things.
Andrew: So Justin. You get 2 questions to ask us whatever.
Justin: whatever?
Andrew: yes.
i turn to rob.
Justin: What is the new songs and whats the video for?
Rob: no.
They all laugh. I do too, because i realize they cant tell me.
joe gets his food to go.
zubin gets his drink to go.
Andrew: Can I get my water to go?
Waitress: umm.
Andrew: Im kidding.
we walk into the street. andrew is washing his hands in the bathroom so we all run and hide.
Picture this: bora,justin,zubin,joe,rob and ross crammed into a storefront with papered over windows for consturction and stuff.
we jump out and andrew is like:
Andrew:dang…..you scared me.
but not really.
We go across the street to a pawn shop.
they look at the instruments and stuff and I overhear rob saying to ross and joe, oh we needa get a guitar for the smash in the studio.
I DUNNO WHAT THIS MEANS. BUT I HAVE A HUNCH.
alot of new stuff coming out.
they told me in Thaitalian how their recording a new song down here and stuff.
We get in the van and head off.
We talk and such.
Joe plays me 30 seconds of their new song. I am the only one besides them to have ever heard it.
sorry.
no spoilers.
We get back to my house and took pictures…here are a few.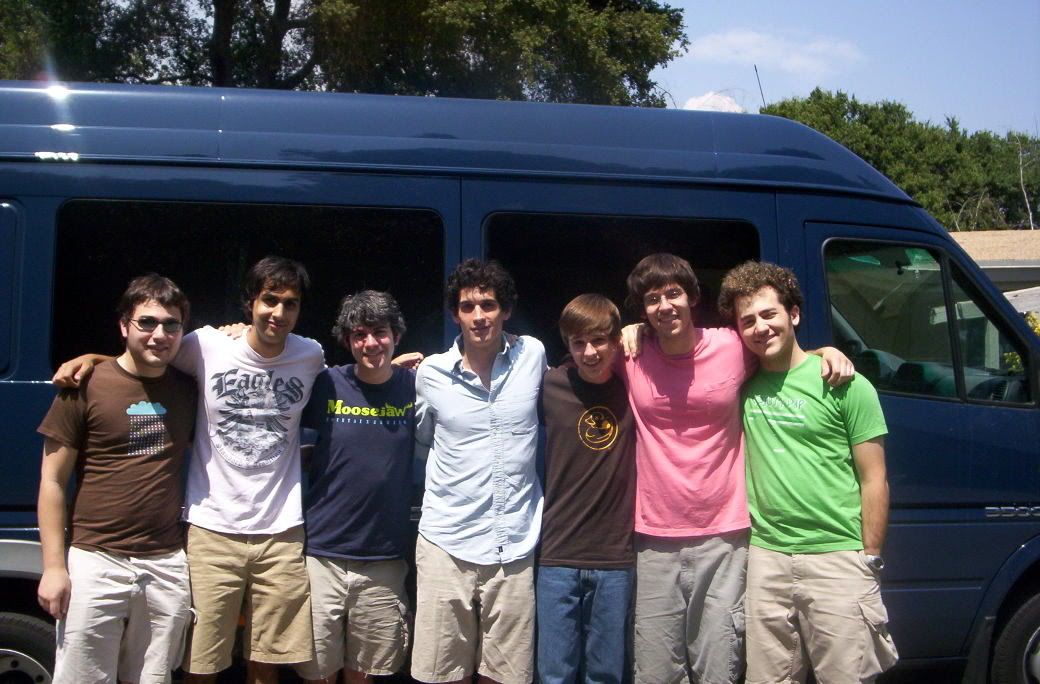 Bonus Video Footage!